What is an airdrop? Why distribute crypto assets and tokens for free?
The literal translation of the term "airdrop" is "drop in the air. Airdrops in the crypto industry are exactly what they sound like: "events where you can get crypto assets (virtual currency) or tokens for free."

So what exactly does it mean to give away crypto assets or tokens for free? This article will provide an overview of airdrops, the conditions for participation, and what you need to be aware of when participating.


What is an airdrop?

An airdrop is a marketing strategy.

In order for a new project to be successful, it is necessary to raise awareness and interest in the project itself and the crypto assets or tokens it issues.

Many people are susceptible to the word "free". When they see the words, "Free 00 gift!" they may first wonder what they can get for free and how they can get it. Airdrop is a marketing strategy based on this principle.

Airdrops are events that allow people to receive free crypto assets or tokens shortly after their release by meeting specified conditions. The crypto assets or tokens tend to increase in value as they become better known, and thus have the potential to generate significant profits later on. It is a marketing strategy aimed at increasing the project's visibility and investors' returns.

So what are the conditions specified at the time of the airdrop?


Airdrop Conditions

The conditions specified vary from project to project, but many conditions are relatively low hurdles. Examples of typical conditions include


Holding specific crypto assets at the time of snapshot.

This condition is the most common condition set by most projects.

A method of increasing the price of a crypto asset by having a large number of people temporarily hold the asset.

The condition is that the new tokens are eligible for distribution simply by holding a specified amount of the target currency at a time known as the "snapshot." If you hold the target currency at the date and time set by the project side, a snapshot is automatically taken as proof of your holding.

Price increases are a hot topic and help raise awareness.


Perform tasks on social networking sites.

A method to increase visibility and expand the community by retweeting specific posts, following official accounts, joining from Telegram, etc.
d
(1) Tasks on Twitter/Instagram
Tasks such as following official accounts on Twitter/Instagram, liking and retweeting specific posts, and posting according to a specified template.

2) Tasks on Telegram
Telegram is a messaging application with extensive security features. It is quite popular worldwide and has more users than LINE, but in Japan, it is only popular in a part of the crypto industry.

Therefore, it may be a little more resistant than (1) above, but it does not require any difficult tasks. Below is a simple flow of joining from Telegram and completing a task, so please refer to it for reference. (This is just an example; sentences and tasks may vary depending on the project.)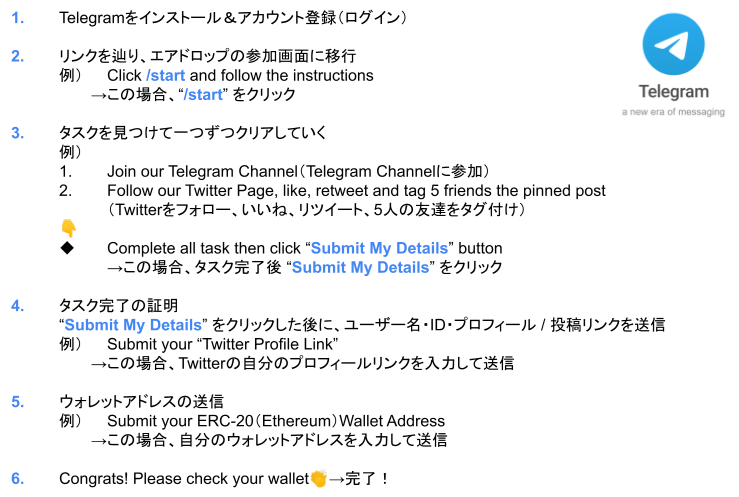 In this social networking-centric age, airdrops are expected to get you recognized faster and by a wider audience than launching on train ads or raising awareness through word-of-mouth.


Make a certain amount of transactions in the marketplace/wallet.

There are few examples of this in Japan, but it is seen in many foreign countries.

In many cases, there is no prior announcement, and the airdrop is made to those who have traded at least once in the past or have traded above a certain level. In other words, you may have cleared the airdrop requirements without knowing it.

There are many other conditions for participating in airdrops in addition to those mentioned above. Before participating, please check the website, Twitter, etc. for an outline and procedure.

Airdrops have not only advantages but also disadvantages. Each of them is explained below.


Advantages of Airdrop
Earn crypto assets and tokens for free
Acquired crypto assets and tokens can be sold in the marketplace
Crypto assets and tokens that are airdropped are likely to increase in price immediately after release.

Crypto assets and tokens increase in price as they become more well-known and attract more investors. By raising awareness through airdrops, the price of crypto assets and tokens distributed for free can be expected to rise. In particular, prices may soar significantly when they are listed on exchanges.


Disadvantages of Airdrop
Some projects are designed to scam you
There is a risk of misuse of personal information
Crypto assets and tokens earned may be subject to taxation

It is dangerous to join airdrops at random just because they are free. Some of the projects announcing airdrops are scams, so be wary. Some airdrops require you to enter your personal information and wallet password as a condition of participation, which can be abused by some people, so you should always make sure that the project is legitimate and that you are not allowed to give out any information.

If crypto assets acquired through an airdrop are already listed on an exchange and have a market value, they are taxable as "miscellaneous income" at the time you receive the crypto assets. Company employees who earn more than ¥200,000 in crypto assets (more than ¥330,000 for housewives, students, and other dependents) are required to file an income tax return.


How to gather information about an airdrop

The following are some of the ways to quickly obtain information about the airdrop

Twitter / Telegram / Official websites of exchanges / Company-operated virtual currency websites / Personal virtual currency blogs / YouTube

In particular, you can collect information in a timely manner on Twitter. If you want to obtain airdrop information on projects originating overseas, we also recommend that you actively participate in Telegram and Discord, which, like Telegram, are not widely used in Japan except in the crypto industry, but are also good "communication tools" for community management. Discord is a "communication tool" suitable for community management.


Air Drop Case Study
BAYC(Bored Ape Yacht Club)Airdrop

BAYC is a Non-Fungible Token (NFT) collection featuring monkeys published by Yuga Labs. (BAKC), two NFT collections derived from BAYC.

The MAYC is an NFT collection that mutated BAYC monkeys; a mutant item called "Mutant Serum" was airdropped to BAYC holders, which could be used on the BAYC to acquire new MAYC NFTs.

As of 2022, the highest sale price for MAYC is 350 ETH. It's a dream come true that an NFT acquired through an airdrop can fetch this much.





https://boredapeyachtclub.com/#/mayc

BAKC is an NFT collection of a Shiba Inu-like dog (Kennel), which appeared as a pet of Bored Ape, a lonely dog living in a swamp BAKC was also airdropped to the holder of BAYC.

As of 2022, BAKC's highest sale price is 626 ETH.




https://boredapeyachtclub.com/#/kennel-club

See also: the possibility of NFTs


Crypto Asset Airdrop to be Held in 2022

TRON (TRX)
TRON (TRX) is a crypto asset issued by TRON, founded by H.E. Justin Sun in September 2017, which will take a total of 25 snapshots on the 10th of each month over a two-year period from June 2021 to June 2023, distributing 5% of its total APENFT (NFT) supply for free Airdrops are being implemented.

TRX is available on the domestic exchanges Huobi Japan and BITPOINT.

LEGION NETWORK (LGX)
LEGION NETWORK (LGX) is a crypto asset issued by the Web 3.0 project from Dubai. We have developed a super application that combines the services of Wallet, NFT Marketplace, Play to Earn, Learn to Earn, Watch to Earn, and Share to Earn into one.

We are currently holding an airdrop where you can receive LGX by downloading the above dedicated app and registering your personal information.


Conclusion

Airdrops have many successful examples as a marketing strategy to increase the visibility of the project itself and the tokens issued by the project.

Since crypto assets and tokens have the potential to generate large profits, actively participating in various airdrop events will increase your chances of hitting the jackpot.

On the other hand, some projects are scams, so it is important to research the companies and projects to make sure you are choosing the right one.